Plantilla PowerPoint Lectura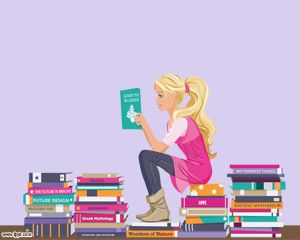 Plantilla PowerPoint de lectura es un fondo de PowerPoint con libros que puede utilizar para crear presentaciones que fomenten la lectura. El fondo de PowerPoint puede ser utilizado para presentaciones de PowerPoint sobre lectura o para biblotecas que necesiten crear presentaciones de PowerPoint sobre libros. Puede utilizarse para presentaciones de lectura para niños pero también lectura comprensiva o presentaciones sobre lecturas cortas o lecturas en general o escritura.
This reading PowerPoint template has stacks of books and a fashion girl reading one of these books. The girl has a pink dress blond hair. The Books PPT template is suitable for reading presentations, bookshop related presentations or any presentation that involve books. Also can be used for e-books presentations and making comparisons with traditional books.