Plantilla PowerPoint de Aprendizaje de Lectura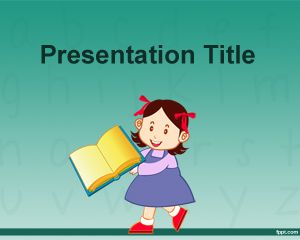 El fondo de PowerPoint de aprendizaje de lectura es un tema de PowerPoint curioso y divertido para presentaciones de escuela donde tenga que enseñar profesores a estudiar a sus alumnos y aprendizaje de lectura. Pero el tema de PowerPoint PPT con libro o plantilla PowerPoint de lectura también puede servir para temas de ortografía así como también gramaticales con un fondo de PowerPoint atractivo como modelo de presentaciones gratis para Microsoft PowerPoint 2010 y 2007.
Learning to read PowerPoint template is a PPT template for scholars or educators who want to create presentations about learning to read. Learn to read background for PowerPoint is a great background that you can use to promote reading habits in children and scholars. The template contains a little girl reading a book and enjoying the reading. The reading template for PowerPoint has a green background. You can use this template for reading PowerPoint presentations or as a reading theme for PowerPoint.