Twitter Fondo para PowerPoint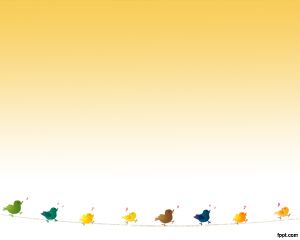 Fondo de Twitter para Power Point es un fondo de PowerPoint con pajaritos de Twitter que puedes descargar y utilizar en tus presentaciones de PowerPoint para Twitter e integrar Twitter con PowerPoint. El fondo de PowerPoint Twitter tiene un fondo claro y puedes descargar este fondo PPT Twitter gratis.
Twitter Background for PowerPoint is a yellow background with birds on the bottom part of the slide. The template contains some birds and makes this a nice template for Twitter presentations or to be used as a Twitter background. The template contains some colored birds. Twitter has undergone a metamorphosis to become somewhat of a canvas; everyone's using it to express their own creative individuality. Whether it be in the cleverness of their tweets or the ways in which they could use the tool itself to get more followers, people are constantly reinventing themselves and reinventing Twitter at the same time trying to get the most of this application. Without our special touch, Twitter wouldn't be what it is today. It's not just the Twitter birds that have evolved in some cases, it is the complexity, beauty and expressiveness of the original Twitter backgrounds that gets people to your page. In conjunction with PowerPoint, you can create and get amazing and free twitter PowerPoint templates.
[ratings]