PowerPoint for Android
If you are wearing a Nexus One of Droid from Motorola supporting Android 2.1 or 2.2, then maybe you are interested in opening PowerPoint presentations in your mobile. This may be useful for students, businessmen as well as presenters.
For example, students can use their Android OS mobile to open PowerPoint .PPT files or presentations and see the content while the presenter display the presentation in the main projector. In case you are not seeing very well or need glasses for long distance, then you can use your mobile synchronized with the presenter to see the slide content. Moreover, if the slide content has small font size then it will be a benefit for you to do zoom in in your mobile to see the full content.
This is also useful in case the presenter is going too quickly and you loose something that you want to pay more attention from an earlier slide.
How to Open PowerPoint in Android OS
There are applications currently running on Android OS that allow you to open PPT presentations.
One of these applications is Documents to Go. It has a free and paid version, but with the free version you can easily open the PPT presentation viewer.
How to control your PowerPoint presentation with Android Remote Control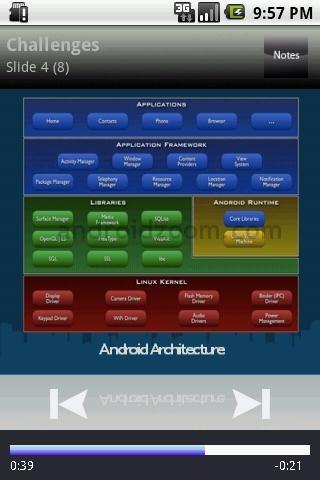 Another interesting idea is to use your Android mobile to control your presentation remotely. Change PowerPoint slides with a single click on the phone or any mobile device. You can use your mobile to move forward or backward. There are other interesting functionalities like:
– View slide and slide notes
– Swipe to change slides
– Mouse annotation
– Go to slide
– Keep track on time
The application name is Remote PPT and can be downloaded from Android Market.