Plantilla PowerPoint Yoga Hatha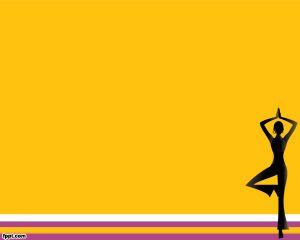 Plantilla PowerPoint de Yoga es un fondo de PowerPoint para presentaciones que tengan que ver con yoga, que puede ser utilizada para presentaciones de Yoga para principiantes pero también para presentaciones que muestren o informen acerca de qué es Yoga o sino mostrar ejercicios de Yoga en diapositivas PowerPoint. El fondo de PowerPoint de Yoga tiene un color amarillo y una imagen de una persona haciendo ejercicios de Yoga. Puede poner información sobre cursos de Yoga o Bikram Yoga en el slide design. El fondo de Yoga para PowerPoint también se puede utilizar en gimnasios o para aprender a practicar Yoga. Otro uso atípico de este template PowerPoint de Yoga podría ser para enseñar la respiración Yoga o las posiciones en los ejercicios.
Hatha Yoga PPT has a yellow background and the image of a woman doing a yoga posture.You can use this template to make a presentation explaining about the origins of Yoga, body postures and meditation. Hatha yoga is a type of yoga known for its practice of asanas or postures that contribute to muscle strength, flexibility and elasticity. The purpose of Hatha Yoga is to make the body is suitable for meditation. Download this PowerPoint Theme for free.
Cargando…